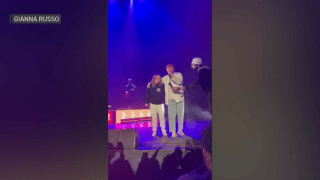 Singer Quinn XCII brought up a guest artist from Naperville to sing with him during his performance at Chicago's Northerly Island last week - and 16-year-old Bridget Shannon has now gained a number of new fans.
Bridget, who has Down syndrome, was surprised the day before by her older sister, family and her sister's friends with a ticket to the show.
(Note: see the full footage below)
"She didn't know she was coming until Thursday, and the show was Friday night," said Gianna Russo, who is best friends with Bridget's sister. "On Friday, all day she was in her room. I actually have a photo of the note that she put on her door. ... She was in her room practicing every single song that Quinn sings, so excited to go to the show."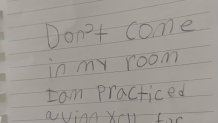 The concert would be the Naperville teen's first time seeing one of her favorite artists perform, though she had been listening to his music for some time.
When the big moment came, the group ended up leaving their seats to go to the floor in front of the stage.
"I had a friend that was up in front of the gate that was there earlier than we were so I made my way through the crowd to get [Bridget] to the front just for at least a song," Russo told NBC Chicago. "And we ended up staying for most of the show because she was over-the-moon ecstatic that she was that close to Quinn."
Then came the part of the performance where Quinn often asks a member of the audience to join him.
"He was actually on the opposite end of the stage picking people to come up because he only brings one person up but he was like, 'You have to know all the words to the song,'" Russo said. "So he was at the other side of the stage, not even near us and went through to people and they were like, 'No, I don't know all the words.' And then he ended up making his way over by our section, where everybody was screaming at him to get her up onstage - even people we didn't know, just because they knew how excited she was to be there. So he pulled her up onstage."
Little did he know, however, that Bridget didn't actually know the words.
"She did not know that song because it's obviously not one of his songs, he's just doing a cover for it and so my best friend Maggie and I, her sister, were literally screaming the words in her ear before they pulled her over the gate," Russo said.
But when push came to shove, Bridget kept her composure and sang the lyrics she had only just learned -- much to the surprise of her mother, who was still sitting in the group's seats at the venue.
"I was like, 'Oh my God - that's my daughter, oh my God that's my daughter,'" Shannon's mother Laura Shannon told NBC Chicago. "It was so exciting."
Russo shared video of the moment the singer and performer asked Bridget to join him onstage.
"@Quinn XCII thank you so much for making our night so special," Russo wrote in the caption, adding that he was "making Bridget's dreams come true."
In the video, Bridget is seen being pulled up onstage and is ultimately handed a microphone.
"You're not just messing with me you know this song?" the Michigan-native singer asked her.
When she replies that she does in fact know the song, music begins to play and Quinn XCII starts to sing the song as Bridget then joins in.
But then, Bridget's mother said Quinn XCII made a subtle move that spoke volumes to her.
"He like stayed with her until she's comfortable and then he just turned it over to her," Laura Shannon said. "And that was like such an awesome thing because that was a huge chance he took ... the way he kind of just let her go."
After giving Bridget her moment in the spotlight, Quinn XCII is then seen in the video coming back in to teach her some dance moves and continue to singing as the crowd roars.
The video ends with Quinn XCII asking Bridget to hit one long high note. And she does.
"I just couldn't stop smiling and crying and then when she was done, people were coming up to her afterwards, 'Can we take our picture with you?'" Laura Shannon said.
But it didn't stop there.
Many in social media comments who said they were at the performance shared their love for the moment too.
"I was there! This was amazing," one commenter wrote.
"I was there and she slayed!!!" another said.
Russo said Bridget couldn't stop smiling following the event.
"She got off the stage and said, 'I've never sang in front of 10,000 people before,'" Russo said. "That's just her personality. She's big personality and she loved being up there and everybody cheering her on."
Laura Shannon said the moment gave her daughter a boost of confidence unlike any other.
"It just set her apart for once, you know what I mean?" she said. "In a very positive way, for her to be proud of her self and actually have something totally amazing happen to her."
The night ended with Bridget getting to take home the setlist from the show -- another gift her mother hopes to thank Quinn XCII for some day.
"The fact that somebody just took a chance on somebody not knowing the outcome and what a difference he made in her life," Laura Shannon said, adding, however, "but maybe what a difference she made in other people's lives who witnessed it."
As for Bridget, well, there's only one way to describe what's next for her.
"I was like talking to this lady in a story ... and Bridget goes, 'Yeah - I'm going to be famous,'" her mother said.