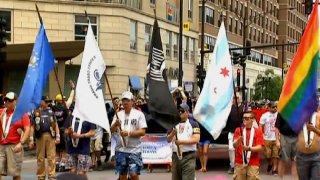 Chicago is celebrating pride month with numerous festivities that bring in massive crowds from both inside and outside the city - and state. From festivals to parades, here are Chicago's biggest pride events this month:
Pride Fest
June 17-18
With more than 100,000 attendees every year, the two-day Chicago Pride Fest will kick off one of Chicago's biggest Pride Month celebrations from 11 a.m. to 10 p.m. Hosted in the Northalsted neighborhood on Halsted Street from Addison to Grace Street, the historic neighborhood's celebration will feature three stages with live music from both headline and local artists. The event will also host DJ, dance, and drag performances with food, drinks and over 150 arts and crafts vendors.
Over 60,000 attendees are expected at the 22nd annual Chicago Pride Fest this year. The event is free to attend but a $15 donation for entry is suggested to pay performers and festival workers and fund community programs.
Pride in the Park
June 23-24
Chicago's Grant Park will be welcoming the annual Pride in the Park celebration to celebrate LGBTQ+ pride in the heart of the city. The two-day music fest will take place the following week and include performers, artists, vendors and more. The music festival will feature headlining performances from Grammy Award winning DJ Zedd and American rapper Saweetie among other musicians.
The event is open for all ages, though children 14 and under must be with a ticket-holding adult with a limit of two children per adult. Tickets are limited and can be purchased here for as low as $70 per day or $130 for 2-Day admission.
Pride Parade
June 25
The 52nd annual Chicago Pride Parade will be taking to the streets with over 150 floats to close out the city's biggest pride month celebrations. What started as a protest march in 1970 after the Stonewall Riots in New York City has grown into the city's second-largest parade with over a million people in attendance in past years.
The parade is open to all ages, and free to attend. Starting at Montrose and Broadway at noon, the parade will celebrate LGBTQ+ pride through the streets of Chicago's North Side until its end near the intersection of Diversey Parkway and Sheridan Road in Lincoln Park. Parade assembly is expected to begin around 10 a.m. with street closures expected as early as 8 a.m. on Montrose, Irving Park and Wellington at Broadway and Addison, Grace and Roscoe at Halsted. Streets are expected to fully reopen by 8 p.m.