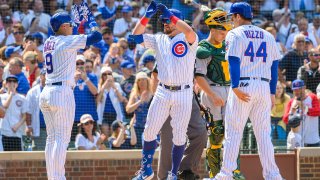 Heading into the weekend, and with summer inching closer, there's no shortage of things to do in Chicago.
Here are some of the events residents are searching for most this weekend, according to Google:
Ice Cream Museum
The Ice Cream Museum is Chicago's ice cream-themed popup and the largest play space packed with unlimited ice cream. Located on 435 North Michigan Ave., the pop-up is designed to be a safe space for human connection and the fun of play.
The Ice Cream Museum is open to private events and group bookings and tickets are required for entry. The Chicago location is open from 9:30 a.m. to 7 p.m. on Monday and Wednesday, and from 9:30 a.m.to 8 p.m. on Thursday, Friday, Saturday and Sunday. More information can be found on the Museum of Ice Cream website.
Quinn Xcii
The reggae-pop singer's tour is making its stop in Chicago Friday at the Huntington Bank Pavilion at Northerly Island. Tickets are available for the 7:30 p.m. show here.
Cubs tickets
This weekend Wrigley Field will host the Baltimore Orioles as the Chicago Cubs play three games across June 16-18. Tickets and more information are available on the official Cubs website.
Sail GP
Chicago's Sail Grand Prix has been trending as the June 16-17 event nears closer. Held at Navy Pier, the race is set to take place from 4-5:30p.m., with Germany making its debut as 10 teams race for the first time ever. More information and livestream can be found here.
Chicago Dogs Baseball
The Dogs are Chicago's home American Association baseball team. With a stadium capacity of 6,300 fans, the Dogs play in Rosemont, Illinois. Fans can attend games for tickets as low as $9 this weekend as the Dogs face off against the Kansas City Monarchs June 16-18 at Impact Field. The Dogs will also be seen competing next month in the American Association All-star Game in Milwaukee.
Brickworld
This weekend marks the start of Brickworld Chicago. Held at the Renaissance Hotel and Convention Center in Schaumburg, this event for families includes over 100,000 square feet of LEGO brick creations from LEGO enthusiasts across the globe. Brickworld is open from 10 a.m. to 4 p.m. June 17 and 10 a.m. to 5 p.m. June 18. Tickets can be purchased for $14 online with free entry for children three and under. More information on this weekend's event can be found here.
Malibu Barbie
There are now more ways to experience Barbie in Chicago besides the doll and the movie. Inspired by Mattel's 1971 beach-themed Barbie Doll, the Chicago Barbie pop-up will include a full menu with various meals from a Pacific West Coast Wave Wedge Salad to a California Dreamin' Club Sandwich. Part of the restaurant's tropical theme also includes an immersive space complete with areas for photo ops inspired by Malibu Barbie, with none other than a life-size Barbie Box. 
The pop-up café will remain open through Sept. 15 in the Loop for all ages. Pricing starts at $17 for reserved seating, a guaranteed time slot, and a choice of entrée and side item included. Tickets can be found here.