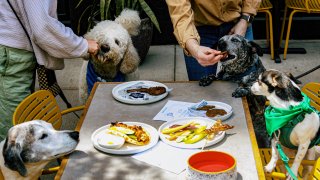 Logan Square's Andros Taverna is going above and beyond pet-friendly with a new menu for a different kind of summer customer.
The contemporary Greek restaurant is offering a limited-time beer, Wine Passport Program and now a menu your dog can enjoy too.
The dog-only menu offers fresh meals like the Puppy Mezze collection, including fresh vegetables, wood fired pita and grilled chicken and pork for $16.
Other items like Chicken Souvlaki offers plain chicken for your dog to snack on while enjoying the Andros Taverna signature wood-fired pita.
Loukanikos chops cooked over charcoal can be ordered for $6 each, with Tracy's Treats homemade dog treats for dessert.
The menu is also available at the restaurant's pickup window. More information on the limited-edition summer menu can be found on Andros Taverna Facebook page.