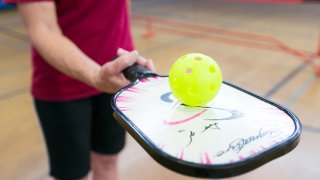 For the last three years, pickleball has been the fastest growing sport in the U.S. Now, pickleball-themed sports and entertainment center Pickle Haus is coming to the Chicago area to feed enthusiasts of the sport.
The brainchild of a joint venture between real estate developer Hubbard Street Group and tennis club owner and operator College Park Athletic Clubs, Pickle Haus will be taking over what is currently a 41,000-square-foot vacant retail property in suburban Algonquin.
The complex is set to be the first of five planned Pickle Haus locations in the Chicago area, according to a statement.
Pickle Haus will feature 12 regulation pickleball courts as well as three golf simulators. Guests of all ages and skill levels can rent a court, join a league, or host an event, according to the release.
Five of the courts will have courtside cabanas for private gatherings and food service apart from the restaurant and bar. The entertainment center will also hold a 1,500-square-foot event space for gatherings ranging from birthday parties to corporate events large enough to reserve the entirety of the facility.
To aid large events, the 1,925-square-foot outdoor patio for lawn games will function as an additional event space.
"With the increasing popularity of pickleball in Chicago and across the U.S., the initial draw of Pickle Haus will be the sport itself," College Park Athletic Club Owner Jeff VanDixhorn said in statement. "Yet we've carefully designed an experience and are creating a vibe that will make Pickle Haus a go-to entertainment destination for the area."
The flagship location is currently under construction and set to open in November at 1621 S. Randall Road, with additional locations in the Chicago area following in 2024 and 2025.
"We're thrilled to be bringing and this best-in-class facility to this area," General Manager of College Park Athletic Club Benj Ecker said in a statement. "We believe it will be a marquee location in the pickleball and sports entertainment world."